Company
Company Profile
ADCOAT CO., LTD. manufactures and sells for "adpack" VCI paper that has been used by major steel companies, automobile companies,
blade companies, etc. for more than 50 years. This page provides information about our company and downloaded documents.
Management Philosophy
"Sanpoyoshi", the old management philosophy, has been carried out by Japanese merchants, especially in Shiga Prefecture, Central Japan.
as our Corporate Social Responsibility.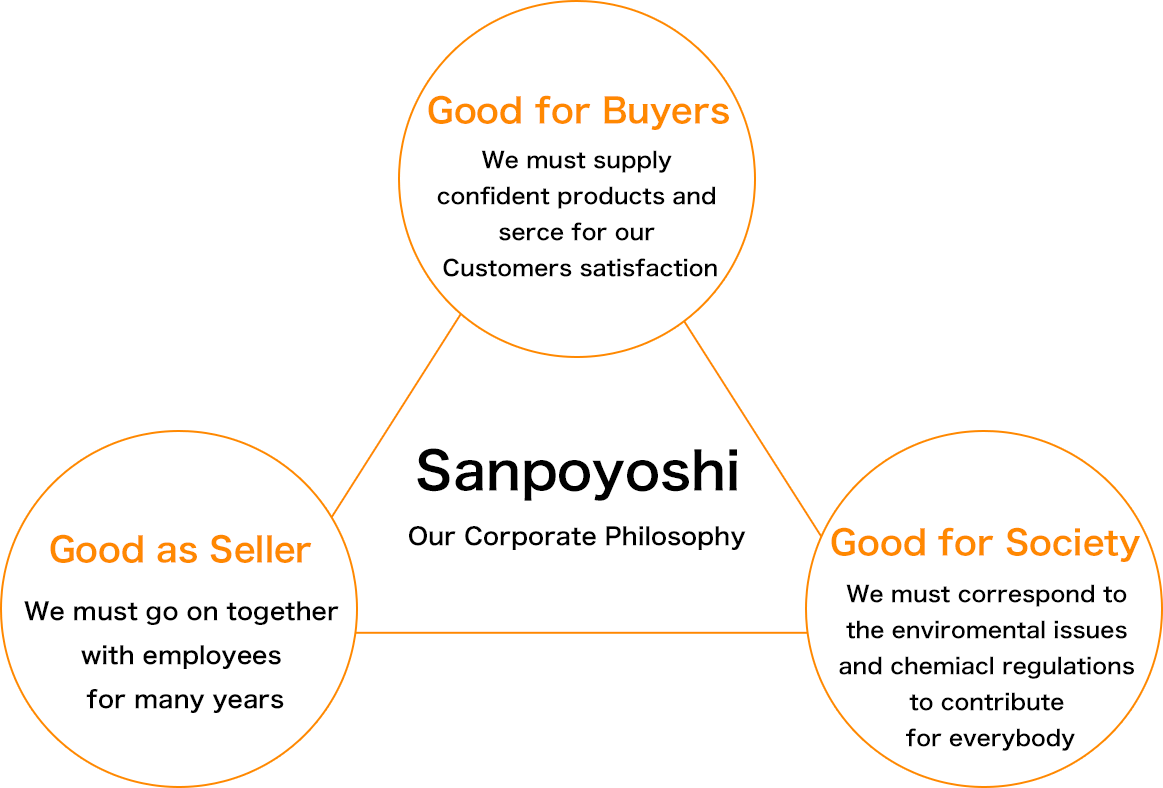 Greeting
ADCOAT CO., LTD. was started and established in 1968 at Higashi-Osaka City, famous for "Monozukuri" (Products Manufacturing).
VCI* paper (anti-corrosion paper) produced by our company, has been widely applied among the major steel mills, car manufacturers and blade producers etc. since 50 years ago.
However, the visibility with the public is very low, because our products have been mainly used as their export packaging.
The climate at high temperature & high humidity in Asia including Japan causes big trouble in the form of rusting.
We do hope "adpack", VCI* paper (anti-corrosion paper) can be easily helpful to protect from rusting for everybody.
Many rules and regulations have been issued like REACH and RoHS etc. for various chemicals.
ADCOAT shall try our best to cope with the rules of chemicals.
Thank you very much for visiting our homepages today. * VCI = Volatile Corrosion Inhibitor.
(Mr)- PresidentGoto Motoshi

Company Profile
Company

ADCOAT CO., LTD. (English) 爱德可达株式会社 (中文)

Head office
[Over sea dept]
1-2-20, Hikari-dai, Seika-Cho, Soraku-gun, Kyoto, 619-0237 Japan
TEL : +81-774-66-1911   FAX : +81-774-94-9027

President

Goto Motoshi

Paid-up capital

40,000,000 in Japanese yen

Main Bank

Osaka city shinkin bank, Kyoto bank, Risona bank

Staff's lisence

Corrosion control Engineer 16 persons (2021)

Machinery

[Coating Machine]
Max
2,200mm 1Unit
Max
1,250mm 1Unit
[Finishing Machine]
Max
2,400mm 1Unit
Max
3,000mm 1Unit
[Slitting Machine for Paper Bobbin]
Max
1,300mm 1Unit
[Cutter for Flat Sheet]
Max
2,200mm × Max Length 6,000mm 1Unit
[Rotary Cutter]
Max
1,250mm 1Unit
[Paper cutting machine]
Max
1,370mm 1Unit

Main customers

Nippon Steel Corporation, JFE Steel Corporation, Kobe Steel, Ltd.,
Daido Steel Co., Ltd, Toyota Motor Corporation,
Nissan Motor Co., Ltd, Suzuki Motor Corporation, Daihatsu Motor co., Ltd,
Mitsubishi Motors Corporation, Aisin Seiki Co.,Ltd.,
Organ Needle Co., Ltd, Feather Safety Razor Co., Ltd., Kai Corporation,
NT Co.,Ltd, Mitsubishi Paper Mills Limited, NSK Ltd,
Amada co., Ltd., OLFA Corporation, The other 5,000 companies
Oversea agent: (China, Thailand, Taiwan, Vietnam, Singapore, Indonesia,India, etc.)

Main suppliers

Kounam Laminate Co., Ltd., Asahi shiko Co., Ltd.,
Mori shigyo Co., Ltd., Cosmo Co., Ltd.,
Fuji-impex Corporation, Tosen Co., Ltd,
Japan Pulp and Paper Company Limited,
Kajiheikiko Co., Ltd., Sanki Shigyo Co,. Ltd, etc.
(in no order or omission)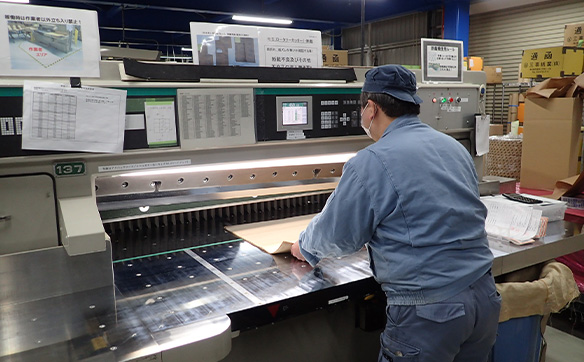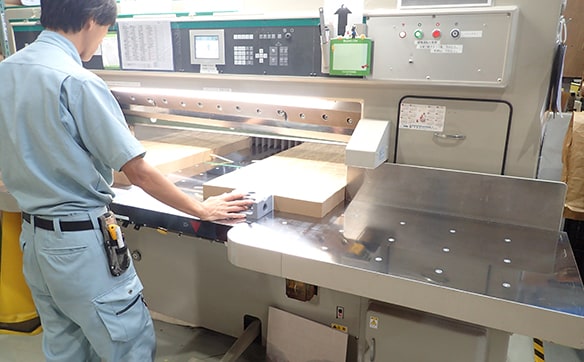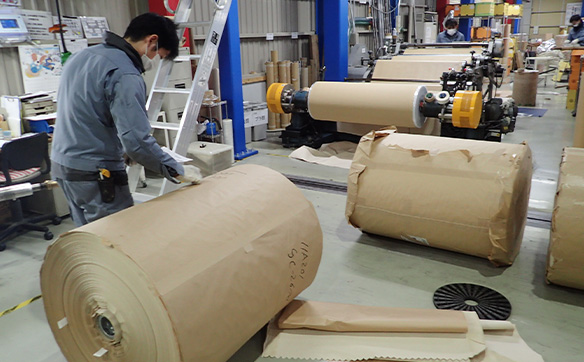 History
1968
Established ADCOAT Co., Ltd. 1-25-14 Hishie, Higashi-Osaka City, Osaka Prefecture with capital of 2.5 million yen
As a cooperating factory of the VCI Paper Division of Nippon Kakoh Seishi Co., Ltd., Start manufacturing processing.
1971
Start Hishime thread-filled paper, Tarpaulin paper Manuacturing
1995
Increased capital to 10 million yen
Started manufacturing and processing of recycled moisture-proof paper
2000
Acquired Japanese trade mark right
2002

Start sales adpack


Nippon Kakoh Seishi discontinued the production of VCI paper due to various reasons. Continuing the business of manufacturing and processing VCI paper based on our own achievements.
Started manufacturing and sales of volatile corrosion paper "adpack".
2003
Acquired Japanese trade mark right
2005
Obtained ISO9001: 2000 certification (certification body: JICQA)
2008
ISO9001: Certification renewal to 2008 version (JICQA)
2009
Increased capital to 40 million yen
2010
Received the Higashi Osaka City Excellent Company Award
2011
Acquired Indian trademark right
Excellent manufacturing company in Osaka
2012
Acquired Chinese trademark right
2013
ISO9001 body change (MIC)
2015
Moved the new Head office and Factory to Seika-cho, Soraku-gun, Kyoto
2017
ISO9001: Certification renewal to 2015 version (Intertek)
2020
Vietnam trademark acquisition
Access
Head office and Factory1-2-20, Hikari-dai, Seika-Cho, Soraku-gun, Kyoto, 619-0237 Japan TEL : +81-774-66-1911   FAX : +81-774-94-9027
Related websites
Rust prevention

Chemical substance related

JIS related